trauma in upper and lower limbs in collaboration with Rwanda society of anesthetists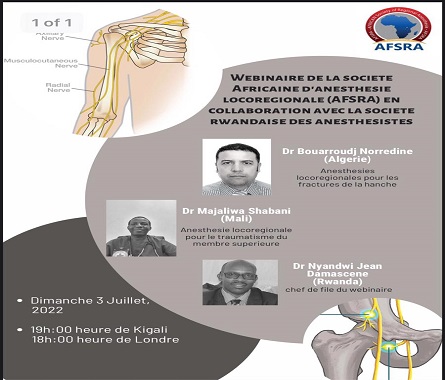 Join us for our second French webinar about trauma in upper and lower limbs in collaboration with Rwanda society of anesthetists .it's free , 3rd July 2022
Speakers :
1-Dr Bouarroudj Nourredine , Algeria
2-Dr Majawila Shabani , international Red Cross ,Mali .
3-Dr Nyandwi Damascene , Rwanda .
Learning objectives :
1-the value of regional anesthesia in managing trauma victims in challenging environment
2-Role of regional anesthesia in hip fracture patients and understand the correlation between anatomy and sonoanatomy .
3-regional anesthesia benefits as part of multimodal analgesia in trauma victims.